United States -
Michigan
Written by Administrator
Sunday, 19 May 2013 22:34
...
United States -
Michigan
Written by The Boyne City Gazette
Sunday, 19 May 2013 22:34
Don't miss the 53rd Annual National Morel Mushroom Festival in Boyne City from Thursday May 16 through Sunday May 19.
Whether you love all things fungi or you just like a good festival, the Boyne City Morel Mushroom Festival has something for everyone.
Find your own morels in Boyne's numerous prime picking grounds or enjoy a meal of morels at a local eatery. Then, be sure to enjoy the fun and excitement of the carnival amusements, craft show, several acts in differing genres providing live entertainment, guided mushroom hunts, mushroom seminars and classes, disc golf tournament, historical society tours, farmer's market, softball tournament and so much more!
This year's signature event "Taste of Morels" is Saturday, May 18 from noon to 3 p.m. Local chefs will showcase recipes featuring the prized morel mushroom.
The Mushroom Pole will be open from 11 a.m. to 5 p.m. on Saturday May 18 at the Southwest corner of Park & Water streets. Mushroom hunters will hang their smallest, biggest and best finds on the pole and you can judge them!
Unless otherwise noted, all events are held under the tent in Veterans Park, 207 North Lake St. in Boyne City.
For more information on this year's festival including a downloadable brochure, entry forms, maps, event tickets and more, go to www.morelfest.com.
Schedule of Events
Thursday, May 16
3 p.m. Carnival opens in Veterans Park; 5:30 p.m. Showcase of Local Musicians! Local talent in Veterans' Park-FREE EVENT
Friday, May 17
10 a.m.-6 pm Craft Show in Veterans Park.
10am-6 pm Michigan Outdoor Recreational Experiences & Living Show in Sunset Park.
3 pm Carnival opens in Veterans Park
4 pm Morel Seminar
4:30 pm Festival "Guided" Morel Hunt Departs from Veterans Park Visit a nearby forest to look for the elusive morel & other edibles! $15, register in advance www.morelfest.com
5:30 pm Morelfest "Wine & Dine" 5:30-7:30 pm @ the Beach House Restaurant. Reservations required www.boynechamber.com
8:30 pm Yankee Station performs; $5 at the door, beer & wine available
Saturday, May 18
7 -10 am Morel Breakfast; VFW 1108 Boyne Ave.
7:30 am Boyne Valley Lions'
...
United States -
Louisiana
Written by John Pope, NOLA.com | The Times-Picayune
Sunday, 19 May 2013 22:23
Like the 2,800 Tulane University graduates massed before him Saturday morning in the Mercedes-Benz Superdome, the Dalai Lama was clearly ready to party. That was obvious when he got up to boogie -- discreetly -- with his very own second-line......
United States -
California
Written by Sacramento Today.net
Sunday, 19 May 2013 22:23
In celebration of the 40th Anniversary Sacramento Music Festival happening over Memorial Day Weekend in Sacramento, Skip's Music will welcome a number of the valley's greatest musical artists on stage on...
United States -
Ohio
Written by Brigitta Burks
Sunday, 19 May 2013 22:07
The United Way of Greater Toledo will invest $11.8 million in programs throughout Lucas, Wood and Ottawa counties during its 2013-14 fiscal season. This is down from $12.9 million last year.

$9.3 million will be directed toward graduating students by targeting education, income and health, according to a news release. That amount was $8.6 million last year.

Karen Mathison, CEO and president, said $868,000 less is being spent in the community and the local United Way will make cuts of about $600,000 internally. This means six staff positions are being eliminated or not being filled and technology upgrades and training are being put off.

The cuts are a result of the board's decision to take a 5 percent payout from its strategic reserve fund instead of 10 or 12 percent like it's done in recent years, Mathison said.

"If you think about your savings account, if you have a $100 in there and every year, you take $10 out, at some point, it's gone. So we're using less of our reserve fund to help off-set and do more community programming, but it's more sustainable for us in the future," she said.

Mathison said she has been meeting with community organizations to discuss the budget the past couple days. She said the organizations have appreciated meeting face to face and engaged in "rich dialogue."

The local American Red Cross is one affected organization. It received $601,878, which is a 9 percent decrease from last year. However, it was expecting a 16 percent cut, according to a release. The four homeless shelters that the United Way helps support, Family House, St. Paul's Community Center, the Aurora House and Catholic Charities, each received 5 percent in cuts, Mathison said.

Programs that received funding last year, but won't next year are the Northwest Ohio Developmental Agency's Individual Development Account program, WGTE's First Book program, Ottawa County Family & Children First Council's Family Preservation Program, Vanguard-Sentinel Adult Career Center's V-S-GED testing contract and Wood County Health Department's personal care contract.

Mathison said the United Way began telling organizations about the potential cuts in January to

...
United States -
Florida
Written by Dan Palmer
Sunday, 19 May 2013 22:07
When John was five years old his parents divorced. He was so interested in reorganizing her life, that he was shifted to an aunt for awhile then another one for a bit, then his father remarried and he was moved again… Actually he never felt wanted. Getting married became an occupation for him. He married [...]...
United States -
Missouri
Written by Kansas City Star: News
Sunday, 19 May 2013 22:05
The possibility of winning a record Powerball jackpot was a big draw Saturday for area stores selling lottery tickets. Early Sunday, officials with the multistate lottery said that one winning ticket for the $590 million jackpot had been sold in Florida....
United States -
Alaska
Written by Mat-Su Valley Frontiersman - news
Sunday, 19 May 2013 22:05
PALMER — Alaska State Troopers are investigating an alleged rape between two inmates in a prison near Sutton....
United States -
Illinois
Written by Elburn Herald
Sunday, 19 May 2013 21:54
KANELAND—The Kaneland Krier staff attended a journalism competition hosted by the Northern Illinois School Press Association (NISPA) at DuPage Community College on Friday, April 12, and received awards as a whole and individually....
United States -
Kentucky
Written by Administrator
Sunday, 19 May 2013 21:54
After several months of mediation, a judge has dismissed a restraining order preventing the demolition of Anatok, the historic building located behind Bethlehem High School.

...
United States -
Louisiana
Written by Ruston Leader
Sunday, 19 May 2013 21:53
...
United States -
Massachusetts
Written by Tim McCarthy/tmccarthy@wickedlocal.com
Sunday, 19 May 2013 21:33
FG_AUTHORS: Tim McCarthy/ This e-mail address is being protected from spambots. You need JavaScript enabled to view it

...
United States -
Minnesota
Written by news
Sunday, 19 May 2013 21:33
...
United States -
Maine
Written by magic-city-news.com
Sunday, 19 May 2013 21:33
I had lost my starter tree and just wasn't sure where I was. Was I lost? Would a moose appear in front of me, laugh, and then gore me? Or would I just wander, never finding my way to the survey line? Or out of the woods? There is no feeling that I know as helpless and frightening as being lost in the woods. All those trees look alike. Any direction can be the right direction -- or the wrong way....
United States -
New Hampshire
Written by admin
Sunday, 19 May 2013 21:33
...
United States -
Minnesota
Written by Administrator
Sunday, 19 May 2013 21:23
Wednesday, May 15, gas prices in Thief River Falls jumped 20 cents to $3.99 per gallon of regular unleaded gasoline. On Thursday, prices jumped another 20 cents. Thief River Falls is not alone in its sticker shock. According to newspapers in Duluth and Minneapolis, gas prices were averaging between $4.19 and $4.25 per gallon on Wednesday. For the rest of the nation, however, gas prices averaged $3.55 per gallon in April, because of lower oil costs, ample refinery production and continued weak demand. In the Midwest, however, two of the largest refineries, both located in Chicago, one operated by BP and the other by Exxon have been closed for repairs. The repairs are expected to take roughly six weeks.

...
United States -
New Mexico
Written by By Stella Davis<br>sdavis@currentargus.com
Sunday, 19 May 2013 21:22
Unaware of the Eddy County's proximity to military installations, new residents to Eddy County are often surprised to see occasionally military aircraft propelling across the sky on training missions, followed with by a sonic boom....
United States -
Illinois
Written by Local News
Sunday, 19 May 2013 21:22
Meagan Provencher fields questions about plants year round....
United States -
California
Written by Search Results - Santa Maria Times
Sunday, 19 May 2013 21:22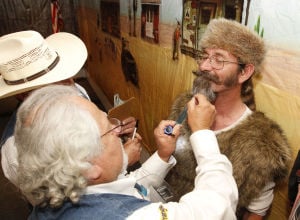 After months of growing and grooming, the winning whiskers were chosen Saturday night at the Santa Maria Elks Beard-A-Reno....
United States -
Kentucky
Written by Kentucky.com -- Top Stories
Sunday, 19 May 2013 21:22
If you happened to have been within earshot of the Cheapside Bar and Grill about 10 years ago, there is a good chance you discovered Angaleena Presley already at work…

...
United States -
Kansas
Written by Kansas City Star: Front Page
Sunday, 19 May 2013 21:22
The military, ranked as America's most trusted institution by its citizens but strained by 11 years of war, faces a troubling confluence: acts of mayhem, a growing sexual abuse scandal, a flurry of other misconduct cases. "We're seeing a strain on an institution," one expert says....
United States -
Missouri
Written by Josh Sellmeyer
Sunday, 19 May 2013 21:22
Visit websterjournal.comfrequently this week, as TheJournal will be previewing the 2013 College World Series, which begins Friday, May 24.
Webster University Gorloks
For the second time in the 27-year history of the Webster University baseball program, the Gorloks are headed to the NCAA Division III College World Series (CWS).
Webster defeated the Concordia University Cougars (Ill.) for the second time in two days to win the Central Regional championship. The Gorloks are one of eight teams headed to the CWS, which takes place May 24-28 in Appleton, Wis.
Webster and Concordia were deadlocked at 3 after 7 1/2 innings of play in the teams' Saturday, May 18 matchup in Moline, Ill. In the bottom of the eighth inning, senior Alex Kazmierski's two-run triple put the Gorloks ahead 5-3. Sophomore Charlie Gandolfi drove in Kazmierski with a single and junior Ian Foege's suicide squeeze scored Gandolfi from third.
Concordia University Cougars

Senior Steven Dooley, the 2013 St. Louis Intercollegiate Athletic Conference Pitcher of the Year, threw a 1-2-3 ninth inning to seal Webster's second straight Central Regional championship. Webster's 7-3 win over Concordia on Saturday took place a day after the Gorloks defeated the Cougars 8-2.

Concordia, the No. 4 seed in the Central Regional, topped No. 3 seed and Regional host Augustana College (Ill.) 9-6 earlier on Saturday to set up the winner-take-all matchup with Webster. The Gorloks were the top seed in the Regional and are ranked 12th nationally in the most recent D3Baseball.com poll. Concordia is ranked 19th.

Webster sophomore Isaac Behme and Concordia sophomore Kurt Kempema were locked in an early pitchers' duel, as both starting hurlers allowed just 1 run each through 4 innings.

Foege, who scored the Gorloks' first run on a wild pitch, homered to left field in the bottom of the fifth inning to give Webster a 2-1 edge.

Webster loaded the bases with nobody out in the sixth inning but mustered just one run. Senior Mitchell Bonds grounded into a 6-4-3 double play, as senior Mike Rainbolt scored from third base. Foege grounded out to end the threat.

Concordia seized momentum

...
United States -
Montana
Written by Search Results - missoulian.com
Sunday, 19 May 2013 21:22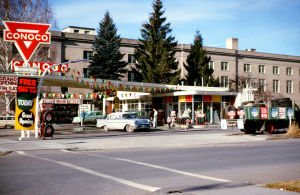 It was May 1953 when Jack Roemer took over the Conoco service station on the corner of Main and Pattee streets in downtown Missoula....
United States -
Massachusetts
Written by Peter Cox
Sunday, 19 May 2013 21:06
North Attleborough High School seniors Alex Jette and Harrison Carmichael have been selected to receive the National Football Foundation Scholar Athlete Award.

...
United States -
Alaska
Written by tony
Sunday, 19 May 2013 21:05